Today I'm going to talk about Mercury retrograde and share an elixir recipe to use during this cosmic occurrence. 
If you aren't familiar with Mercury retrograde, it's a time when the planet Mercury appears to be moving backward in its orbit. Astrologically, it's believed to cause communication and technology glitches, travel disruptions, and general chaos. However, it's not all doom and gloom! Mercury retrograde represents an opportunity to slow down, reflect, and renew ourselves.
Since we're currently in a Mercury retrograde period, I thought it would be the perfect time to share an elixir recipe that can help us ease through it. This elixir is inspired by a herb known to strengthen communication and digestion - peppermint!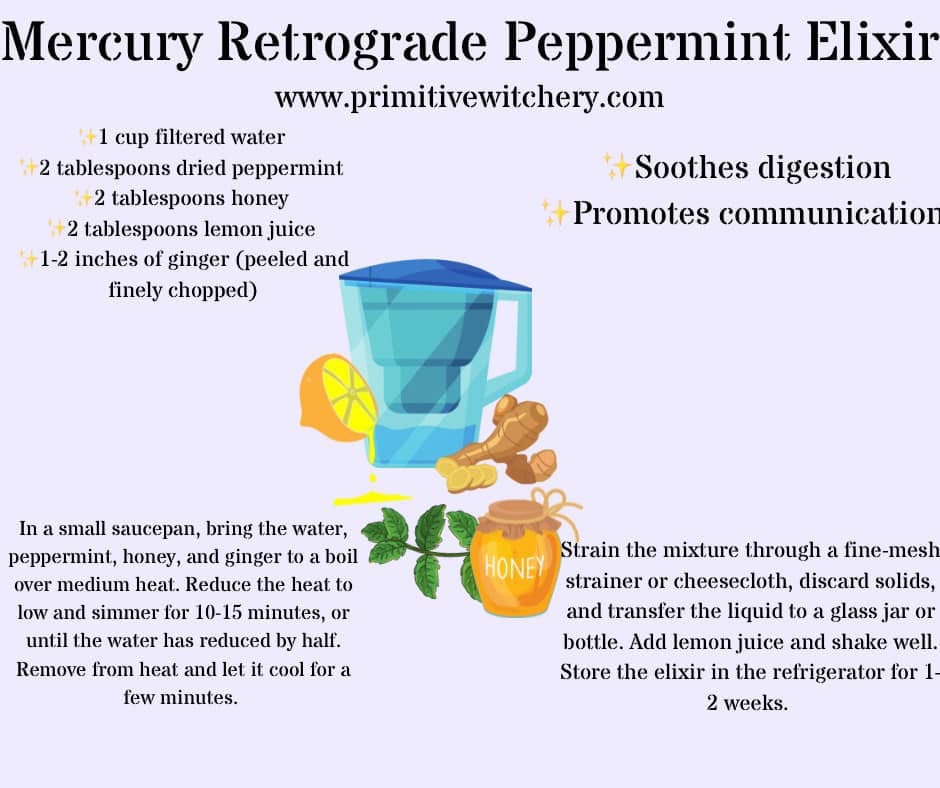 Peppermint Elixir Recipe
Ingredients:
1 cup filtered water 2 tablespoons dried peppermint 2 tablespoons honey 2 tablespoons lemon juice 1-2 inches of ginger (peeled and finely chopped) 
Instructions:
In a small saucepan, bring the water, peppermint, honey, and ginger to a boil over medium heat. Reduce the heat to low and simmer for 10-15 minutes, or until the water has reduced by half. Remove from heat and let it cool for a few minutes. 
Strain the mixture through a fine-mesh strainer or cheesecloth, discard solids, and transfer the liquid to a glass jar or bottle. Add lemon juice and shake well. Store the elixir in the refrigerator for 1-2 weeks. 
This peppermint elixir recipe is perfect for soothing digestion and promoting communication. It can be consumed as a shot, a tea mixed with hot water, or even as a cocktail mixed with your favorite spirits. 
Whatever method you choose to consume it, remember to be present, communicate clearly, and move through Mercury retrograde with ease! 
Next,  I'd like to share a DIY spray that can help to chase away those Mercury retrograde blues. This spray recipe is quick and easy to make, so you can enjoy its benefits without a lot of fuss.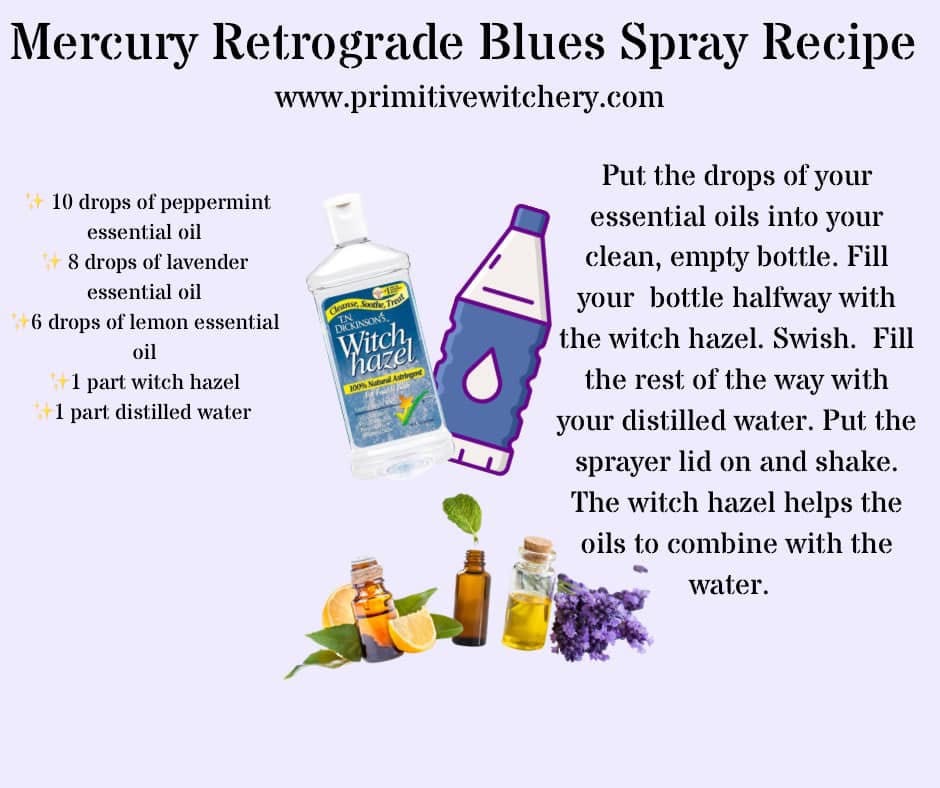 Mercury Retrograde Blues Spray Recipe
Ingredients: - 1 part distilled water - 1 part witch hazel - 6 drops of peppermint essential oil - 5 drops of lavender essential oil - 4 drops of lemon essential oil
Instructions: 1. Add the peppermint, lavender, and lemon essential oils to the spray bottle 2. Add the witch hazel, halfway, swish all together 3. Add the distilled water, the rest of the way, and give it a good shake.
And that's it! Spray this magical mixture whenever you're feeling overwhelmed or down during Mercury retrograde. The peppermint oil will freshen up your space and boost your energy, while the lavender oil will calm your mind and bring tranquility to your space. Lastly, the lemon oil will uplift your mood and bring a refreshing scent to the mix. You can use this spray as a room spray, for your linens, or as an aura mist to uplift your mood.
I hope you enjoy this DIY recipe and make it a part of your Mercury retrograde rituals. Let the magic of the mix refresh your spirits and fill your heart with love and positivity. 
Remember, Mercury retrograde may test us, but it offers us the chance to pause, reflect, and grow. Until next time, stay magical!